Andrzej Tomaszewski was born in 1966 in Poland, Konin. However, he started his conscious and systematic work in 1990. For many years he has been a member of the Association of Polish Artists and Designers – Polish Applied Arts in Poland, Poznań. He is a surrealist, the main theme of his works is a man, a human figure processed in a very specific way. The artist in his works shows emotions, drives, loneliness, etc. with which humanity has been struggling for centuries. For years he has been participating in individual and collective exhibitions. His paintings are in art galleries and private collections. Andrzej Tomaszewski's works are sold at auctions in the largest Auction Houses located in Poland, among others in Desa Unicum, Rempex and Ostoya.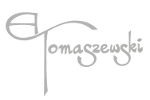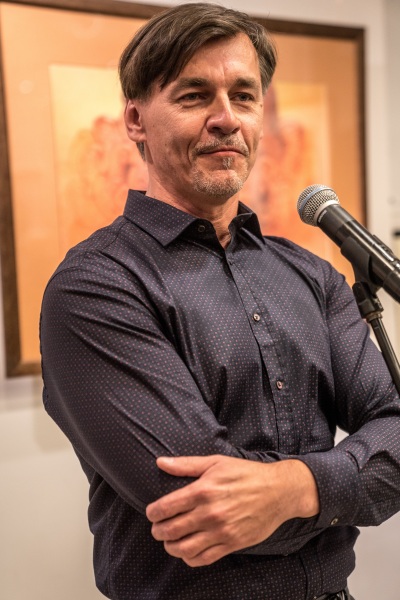 One of the characteristics of artists who have reached great heights is the recognition of their works even by amateurs of art. Tomaszewski is recognizable! His art may not be emotionally accepted (not everyone likes such a character of his works), but honesty requires recognition of its heights. Not everyone likes emotional and intellectual effort. (…)
Andrzej Tomaszewski was born in April 1966 in Konin, Poland. He jokingly says that he has been painting "ever since", but his mature, conscious and systematic creation began in 1990
Warszawskie targi sztuki 2021 Marek Mielniczuk o Andrzeju Tomaszewskim
Marszand, antykwariusz, kolekcjoner, ekspert w tworzeniu kolekcji dzieł sztuki. Promotor malarstwa Ecole de Paris. Galerie Marek and Sons i Cabinet D'Expertise Bobrowska Mielniczuk w Paryżu
THE ARTIST AND HIS WORK - 2007
Andrzej Tomaszewski was the winner in the international competition ARTIST AND HIS WORK – 2007 organized by the magazine " Współczesne Malarstwo" ("Contemporary Painting").
This album is the prize of the organizers of the competition.
2019 – Poland, Konin – Great retrospective exhibition entitled "100 x Tomaszewski" CKiS Konin September 13 th – October 6 th
2014 – Sweden – An exhibition of Polish art from the ADI ART gallery collection at the LYKTAN gallery, Skopas, May 17th – June 5th, with the participation of the Polish Ambassador in Stockholm.
2012 – Andrzej Tomaszewski's vernissage, Piwnica u Artystów, Poland, Konin.
2008 – "Polish Surrealists" October 24 – November 23, SD Panorama in Warsaw, Poland
2008 – Poland, Łódź – Individual exhibition at the ADI ART Gallery, October 24 – November 24.
2008 – Lithuania, Vilnius – Individual exhibition – House of Polish Culture in Vilnius Vilniaus lenku Kultos namai, Naugarduko 76, May 16.
2008 –Mexico – Museo de la Cultura Maya in Chetumal, Mexico – "Contemporary Polish Art", May.
2007 – Sweden – Stockholm – (Skopas) participation in the exhibition Contemporary Polish Painting, August 18.
2006 – participation in the exhibition of the "Pod Belką" gallery, October – December – Castle in Nidzica, Poland.
2006 – individual exhibition at the Museum in Petrykozy by Wojciech Siemion at the end of the XXXV Warsaw Poetry Autumn.
2006 – participation in the International Art Forum "ADI ART. 2006 "September 19-24, Lodz, Poland
2006 – participation in the exhibition "Materia Fantastic". June 23 – September 30 – Kórnik Castle, Poland
2002 – participation in the International Pastel Biennale in Nowy Sącz, Poland
ADDITIONAL INFORMATION FROM DIFFERENT SOURCES ABOUT THE ARTIST'S RECENT EXHIBITION "100 X ANDRZEJ TOMASZEWSKI"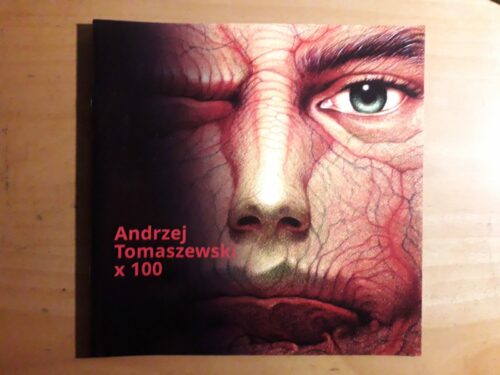 Album from the last exhibition 100 x Andrzej Tomaszewski
Order the album for PLN 10 with the shipment via Poczta Polska in Poland. Contact us via the form HERE
100 x ANDRZEJ Tomaszewski
This is actually the first, and certainly the first so extensive, exhibition of the Konin surrealist in his hometown. The Center of Culture and Art in Konin shows 100 drawings and paintings by Andrzej Tomaszewski, most of which come from private collectors. This is an incredible opportunity to face his unbridled imagination in a real space, not in an internet gallery. The exhibition gives the opportunity to summarize and trace the stages of the artist's development, who will soon be celebrating the 30th anniversary of his creative activity. (…)
ANDRZEJ TOMASZEWSKI IN URBAN SPACE IN THE "ART LOOKS FOR US" ACTION
COLLECTIVE EXHIBITION OF POLISH ART FROM THE ADI ART GALLERY COLLECTION IN THE LYKTAN GALLERY
Skopas,Stockholm. 17.05-05.06.2014
13.10.2012 CELLAR AT THE ARTIST OF KONIN, POLAND, ANDRZEJ TOMASZEWSKI'S VERNISSAGE
POLISH SURREALISTS 2008, SD PANORAMA
WARSAW, POLAND OCTOBER 24th-NOVEMBER 23rd 2008
INDIVIDUAL EXHIBITION-HOUSE OF POLISH CULTURE IN VILANUS LENKU KULTUROS NAMAI, NAUGARDUKO 76
TOMASZEWSKI AT THE EXHIBITION IN MEXICO 2008
WOJCIECH SIEMION'S MUSEUM